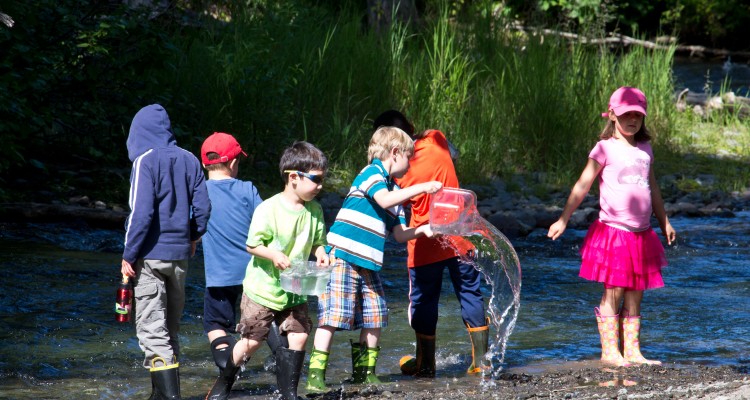 Photo by Doug Brown
Originally published on the New York Family website
During the summer, students have a lot of unstructured time, which can lead some to regress and lose certain skills. Instead, spend the summer improving your child's learning. With the kids out of school, many families add something new to their routine: educational vacations, products that claim to improve learning, and summer camps, to name a few. Are these strategies effective? I interviewed a couple children's education experts to discover the best way to avoid summer slip.
3 Strategies to Keep Kids Actively Learning
1.) Visit Educational Locations
Since I majored in history at Flagler College, located in St. Augustine, Florida (America's first settlement), I am a big advocate of families taking their children to visit historical landmarks. To learn more, I interviewed Dr. Emily Levy, Ed.D, the founder and director of EBL Coaching, a one-on-one tutoring program based in NYC and NJ. Levy says, "going to museums and seeing real science concepts come to life or multi-dimensional exhibits on artists help add additional value to learning." Seeing content areas come alive can help show your child the value of learning. It can be valuable for children to make connections between book material and the world around them. Experiencing learning in a more hands-on way can spark an interest that children can then build on when they return home.
Even if your summer beach plans mainly involve sunscreen and the water, schedule one or two trips to educational locations. Visit places that your kids will be enthusiastic to see. Archaeology dig sites for kids, pirate museums, science centers and places with historical re-enactments appeal to children. Visit locations with lively activities that can get your child moving instead of sitting to help engage your child in the experience. Even if you aren't leaving your hometown this summer, visit local spots that provide learning opportunities. Having rich, educational experiences can give your child background knowledge that helps him or her succeed in school.
2.) Buy Products That Emphasize Skills
Select educational toys that add value to your child's development over the summer. To learn more about how to choose quality products, I spoke with Tanya Mitchell is the VP of Research & Development for LearningRx, a national brain training company. Mitchell says, "Weak skills can be strengthened with the right activities and training." Purchase toys that are within your child's ability level, even if the items have a suggested age of one or two years older, especially if you have time to teach your child how to do the activity. Don't skip over all toys that frustrate your child. Your child might need to continue to try activities that are hard for him or her to improve certain skills, but avoid pushing your child in a way that makes learning miserable. Give your child time, and you might find that an item becomes more appealing the more he or she is exposed to it. Also, if an item bores your child, it might be a sign that the activity is too easy.
Challenge your child at the right level to reinforce academic skills. Before the beginning of the summer, touch base with your child's current teacher to ask what kind of skills his or her classroom will reinforce in the next year. Your child's teacher should have a good understanding of specific skills that might be good to focus on over the summer. Also ask what kind of curriculum your child's classroom will use next year. You wouldn't want to spend all summer teaching math one way, only to learn that the school has a different, very specific way of teaching math. The same applies to handwriting and language arts.
avoid summer slipKeep learning exciting. Summer is a good time for children to de-stress, especially those in the upper grades who spend all school year taking tests. Choose items that appeal to your child's interests. For instance, a child who struggles in their science class can choose from a wide variety of science project kits over the summer that they could do without the impending stress of a test or a vocabulary quiz. If your child doesn't like science, choose products that would appeal to other interests. As you keep children actively learning, they are improving skills that can help them when fall comes and they return to school.
Another way to engage your child is to make learning a family activity. Play games at the dinner table. Get both parents involved. Traveling on a family vacation? Bring card games that reinforce thinking skills. Discuss the answers or play the games together in the car. Learning games don't have to be expensive. You can even make your own flashcards.
3.) Send Your Child to the Right Camp
Camps offer an opportunity for your child to enrich their learning. Choosing the right camp is key. According to Levy, "Identifying your child's interests is key to finding the right camp." To get the most out of a camp, you should select one that builds on what your child already enjoys doing. If your child enjoys language arts, a writing camp or an acting camp might be appealing. Children who enjoy science can go to a hands-on, outdoor science camp or a STEM camp that focuses on programming. The experience should be exciting and rewarding. An academic-based camp might be ideal for some, but others might be more interested in a recreational camp, which could also provide good benefits for improving your child's social skills and gross motor skills.
Dear Dr. Levy, My son received an excellent report card. I can't say enough good things about his EBL tutor. She has done a tremendous job helping him improve his reading and writing skills. Most importantly, she is wise and kind. She is always patient with him. Because of his tutor, my son writes with much more ease.
– Parent