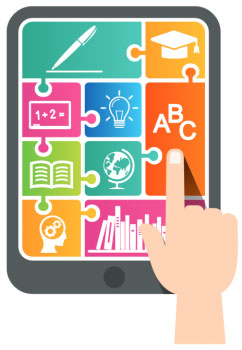 Reading, Writing, And Swiping
Originally published on the New York Family website
14 apps for developing children's reading and writing skills from pre-K through high school
Though many parents lament the distractions that electronic devices can present, much of what makes tablet and smartphone content so engaging and addicting—interactive games, visually rich graphics—can help students develop the skills and enthusiasm necessary for success as readers and writers. To help you sort through all that's on the market, we turned to Dr. Emily Levy, the founder of EBL Coaching—a local, one-on-one tutoring program for K-12 students—to share some of her favorite reading and writing apps.

READING
Montessori Crosswords (Pre-K-Kindergarten) 
This app helps students develop their decoding, spelling, and writing skills by teaching them to build words with different phonics patterns. Students start by building basic CVC (consonant-vowel-consonant) words, then move into words with blends, digraphs, silent Es, vowel teams, and other combinations. Students are initially given a picture (like "bag" or "kid") and are asked to drag letters from the alphabet at the bottom of the screen to spell the displayed word. Later, students spell words following specific phonics patterns in the form of crosswords. Students can also choose themes for the activities, like animals, food, clothes, and more. $2.99, iTunes, Google Play &amazon.com
Short Vowel Word Study (Grades K-1)

This is a great app for reinforcing basic word decoding at a Kindergarten/grade 1 level. The app contains three main sections: Word families, short vowels, and longer words. The first game is "Sort It," where the child must sort a word into its proper vowel category: I, U, or A. In the "Find It" game, the child must find the "oddball" word that doesn't belong in the same vowel family, and drag it to the bottom of the screen. The "Spell It" game reinforces spelling by displaying an image (like a hat) and the child must drag letters to spell the word. The "Write It" game teaches students to trace and then independently write words. Other related fun and engaging reading games are also integrated into this app. $2.99, iTunes &Google Play
Super Why! (Pre-K)
This app is a great one for building reading, spelling, writing, and phonemic awareness skills. It includes four games, each led by a different character: Alpha Pig, Princess Pesto, Wonder Red, and Super Why. In the Alpha Pig game, students find letters on a path to form different words. In the Princess Pesto game, students practice writing letters to form words that are first modeled by Princess Pesto's magic wand. In Wonder Red's game, students identify rhyming words, and in Super Why's game, students build their reading comprehension skills by identifying words that complete sentences in a given story. $2.99, iTunes, Google Play & pbskids.org 
MeeGenius (Ages 2-8)
For a wide selection of interactive, digital story books, MeeGenius is a great app that provides access to more than 700 children's e-books for children up to age 8, which are accessible on iOS, Android, Windows 8, Amazon, Nook, and online. Free,meegenius.com 
Reading Comprehension at the Paragraph Level (Middle School)
With this app, students read a series of stories on stimulating topics and are then asked various types of comprehension questions, including identifying the main idea and important details and making inferences. At the end of each story, an open-ended question is included to generate discussion. With practice using this app, students will develop critical thinking, reading comprehension, attention to detail, and memory skills. $3.99, iTunes
iAnnotate (High School)
This app helps high school students develop active reading and note-taking skills by reading, highlighting, underlining, striking out, and annotating text to create effective study guides and improve overall comprehension. Students can import Word, Power Point, and PDF documents and use the app's built-in tools to engage with the text while reading. $9.99, iTunes; Free, Google Play & amazon.com
SAT Vocab By MindSnacks (High School)
This app is a great one for learning SAT-level vocab words or for simply developing vocabulary skills. Students learn definitions, antonyms, and the proper spelling of words by first reviewing a set of words and then playing nine different colorful, uniquely-illustrated games. The app includes 25 levels and more than 500 words, and tracks students' overall progress. Free, iTunes
WRITING
iWriteWords (Pre-K-Kindergarten)
This app is helpful for developing handwriting and fine motor skills for preschool and Kindergarten students. Students choose from numbers, lowercase, or uppercase letters, and practice writing with their fingers using proper formation. They help Mr. Crab "collect" numbers in order to properly form each letter or number. Students are rewarded with a colorful picture at the end of each segment. $2.99, iTunes
StoryBuilder (Grades 1-2) 
This app gives students practice creating their own stories using picture prompts. Students are asked a series of questions about a picture. Aided by an initial written phrase, they must answer each question in a full sentence while being recorded, creating a well-sequenced narrative. After each exercise, students can listen to themselves telling the story and can then email it to anyone who'd like to hear it. Using this app, students strengthen higher level comprehension skills (including inferencing), sequencing, paragraph formation, and storytelling abilities. $7.99, iTunes
Sentence Builder (Grades K-5) 
This app teaches elementary school students to form well-written sentences in "slot machine" format. To play, students select words to form a sentence that best describes a whimsical picture presented at the bottom of the screen. Through these exercises, students build grammar, punctuation, and pronunciation skills, starting with shorter sentences and gradually moving into more complex ones. $5.99, iTunes & Google Play
Kidspiration Maps (Grades K-8) 
This app is a great one for brainstorming, prewriting, and helping elementary and middle school students organize their ideas. Students create visual diagrams using shapes, symbols, and images that they can connect together in a web-like format to organize their ideas—a great first step before writing! Students can also work on reading and writing, social studies, science, and math skills using pre-set activities. This app develops many skills, including critical thinking, creativity, verbal expression, written expression, and organization. $9.99, iTunes 
Writing Challenge for Kids (Grades 5-7) 
Many students have trouble beginning the writing process. This app is a great one for combating that challenge—it helps students begin their writing and keep their creative juices flowing. After pressing "Start," students are given a prompt, such as: "Start writing a story that takes place in an evil river. Include the word rabbit." After every minute (or whatever time is set), the student is given another prompt for adding details, characters, and other ideas to help them form a more elaborate story. $1.99,iTunes & Google Play
Writer's Studio (Grades 6-12) 
This app is useful for aiding middle and high school students in creating eBooks and presentations. Students can import graphics, photos, music, and clip art, and can also add drawings and paint to their text to create innovative visual stories and presentations. Students strengthen their writing skills while "bringing stories to life" with creativity and color. $4.99, iTunes
Inspiration Maps (Grades 6-12) 
As the "higher level" counterpart to Kidspiration Maps, this app helps middle and high school students plan, organize, and brainstorm their ideas before writing. Students can take notes in a web-like format while integrating icons and different bubbles, and can easily translate their web into outline form. $9.99, iTunes
Dear Dr. Levy, My son received an excellent report card. I can't say enough good things about his EBL tutor. She has done a tremendous job helping him improve his reading and writing skills. Most importantly, she is wise and kind. She is always patient with him. Because of his tutor, my son writes with much more ease.
– Parent