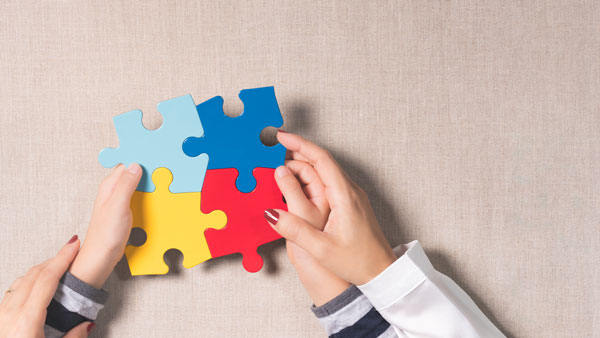 Differentiating Between ADHD and Autism in Children
Your child is struggling with focus, communication, impulsivity, and school work. Is it autism or ADHD? Or could it be both? It can be tough to differentiate between the two diagnoses since many of the symptoms overlap. Yet there are many distinct differences between autism and ADHD. Let's take a look at each issue.
Focusing
Individuals with ADHD tend to be distracted easily. As kids, they may start a homework assignment but quickly lose focus when they hear the doorbell ringing, their phone buzzing, a newscaster speaking on the television, or people talking in another room. They may continuously start and stop an assignment, taking what seems like forever to complete it. As adults, they may have similar trouble staying focused on tasks; writing emails, creating a weekly schedule, or completing a project may take hours to complete with all of the surrounding distractions.
Those with autism tend to have trouble focusing on a task they don't like. For instance, they may not want to read a particular book, complete a math sheet on multiplication, or finish a puzzle. If that's the case, they may "act out" and demonstrate poor behaviors out of sheer frustration. Read more at Wondering if Your Child Has ADHD? – EBL Coaching.
Communication
Children and adults with ADHD may talk incessantly, regardless of whether others are truly listening or seem interested. They may interrupt their peers when speaking, and may not tell a story in an organized, sequential fashion. They may also overstep boundaries, sharing inappropriate information with others.
Those with autism often have trouble expressing their thoughts and feelings using appropriate words. They may speak out of context, often bringing up a topic (like the rainy weather outside) during an inappropriate time, like when the person they are with is talking about their favorite subject in school or what they plan to have for dinner that night. Those with autism tend to have poor social awareness and weak language skills, and may struggle with appropriate eye contact when speaking.
Routines
Individuals with ADHD tend to do well with routines but often have difficulty sticking with the routine and following through with it on a regular basis. For instance, they might know they should exercise every day for an hour or spend 30 minutes each day organizing their belongings, but easily become distracted when trying to complete the task.
Those with autism prefer doing the same routines over and over. For example, they may have chocolate chip pancakes for breakfast with a specific amount of butter every day, complete the same puzzle over and over, or prefer having the same book read to them time and again. They thrive on routine and don't like change; any altering of these routines may cause them to become extremely upset. Learn more about this at Time Management Tips For Kids With ADHD – EBL Coaching.
Similarities
ADHD and autism do share some similarities, including impulsivity, executive functioning challenges, focusing difficulties, learning challenges, and social troubles. Some individuals have only ADHD or autism, while others have both. The only way to know what your child may have is to undergo a complete evaluation, which typically includes observations, questionnaires, and formal evaluative tools.
The earlier you can identify your child's diagnosis, the sooner you can seek treatment, and the more likely your child will be successful in school and in life. Remember that your child likely has many gifts regardless of their diagnosis; learning more about who they are can only help you to best help them.
Other Blogs about Autism:
Helping Autistic Students Build Stronger Executive Functioning Skills
Other Blogs About ADHD:
Dear Dr. Levy, My son received an excellent report card. I can't say enough good things about his EBL tutor. She has done a tremendous job helping him improve his reading and writing skills. Most importantly, she is wise and kind. She is always patient with him. Because of his tutor, my son writes with much more ease.
– Parent