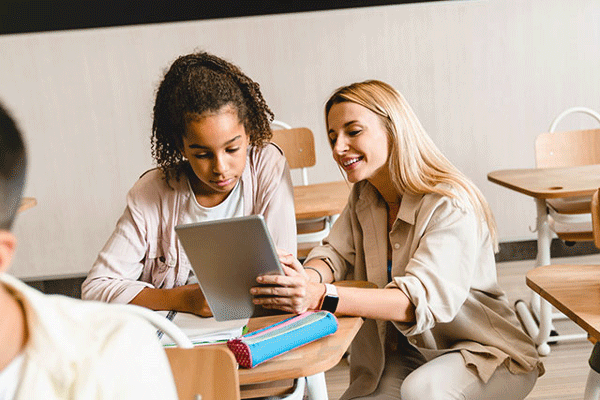 Importance Of Tutoring To Help Kids Struggling With Reading, Math, Allow Them To Catch Up With Their Classmates
Originally published on the StatenIslander.Org website

A Conversation with Dr. Emily Levy: Mother, Wife, Business Owner and Child Advocate
Dr. Levy is an educational expert, business owner, public speaker and author based near New York City. She took some time out of her business schedule to speak with me about her career, home life and the educational needs of children.
Dr. Levy, in addition to being a small business owner, author and public speaker, you are also considered an accredited educational expert. Most of us get the general gist of what this means, however, please elaborate on some of your daily duties within your career. Further, can you share with me what you feel are some of the more severe academic challenges that all of our children are facing now?
Prior to the pandemic, we were already facing a reading crisis. Reading achievement for students in the United States was sliding at the time, and since the pandemic – reading and learning loss has sadly skyrocketed. So many kids struggle to read, write, and complete basic arithmetic, and without solid foundations, they typically continue to struggle as they progress through school.
On a daily basis, I speak to parents whose children are struggling with their academics. Some children do not know how to decode a basic word; others struggle with reading comprehension and inferencing. Another group cannot write a simple sentence or paragraph; and many struggle with basic math. The struggles are real and significant. It fills me with gratitude knowing that I have been able to help so many children build their academic skills and self-confidence and truly change their lives for the better.
You hold a Master's Degree in Special Education and Doctorate Degree in Education from Nova University. Some indicate they specialize in education so as to enlighten and consistently engage with children. Why did you decide to pursue this path? To anyone reading this who wishes to carve out a career within education, share some of the pros and cons for this field of practice.
I grew up in the field of special education. My mother was the founder of a school for students with learning disabilities in South Florida. As a child, I worked at her school, observed children, and witnessed the many struggles these students faced. Since I wanted to carve my own path, I decided to work in finance for a few years until I realized how much more gratifying it was for me to work in the field of education and truly help others. That is ultimately why I transitioned back to education.
In terms of pros and cons, the main pro in my option is really being able to shape the lives of so many kids and help them through their academic journey. It is an incredibly rewarding and fulfilling career. Of course, many would argue that teachers are not paid enough – especially considering the crucial role they play in the lives of children, along with the substantial time and effort put in by educators.
Your resume indicates that you have done public speaking in the past, along with publishing a number of workbooks. Both of these talents are considered art forms, and so I ask: how did you use art to impact or influence audiences and readers? Might you be doing more events in the future, and have you considered composing another book?
None of the work that I do is ever generic or "cookie cutter" – there is never one instructional plan or method or book that applies to every child. Each student is unique and has individual needs, so a large part of what I do in my career is coming up with the best instructional plan for each child given his or her past and current struggles and overall profile. I love speaking publicly and educating others in the best practices for working with students who have learning challenges, and have authored three sets of workbooks to help students build their reading, writing, math, test taking, summarizing, and organizational skills. I have many new books in the pipeline as well as an exciting software project for helping students to digitally to improve their writing skills.
I am a big believer that your personal life can greatly affect your professional life in various ways. You have four beautiful children and your husband, Michael, who are the loves of your life. How have they enabled you to be a stronger, successful businesswoman?
My husband and four daughters (Sophie, Maya, Elana, and Hannah) are truly my world! My husband also owns and runs his own business, so we have a natural understanding of when one of us needs to jump on a phone call or Zoom – or take a quick meeting with little notice. We have learned to naturally help one another without having to ask when these situations arise – with the kids, household chores, or just with making sure there is complete silence. We also share all parenting responsibilities, and I have to throw Michael special parenting bones for this one – dishes and laundry are all him. He is an amazing dad and a great husband. I think our secret may be that we truly respect each other in our roles as business owners, parents, and friends.
You are the Founder of EBL Coaching, which offers individualized, research-based tutoring to children with specialized learning needs in grades pre-K to 12. To be more specific, can or do you offer services only to those with learning challenges – or are you able to tutor any child? Is your clientele normally referrals from educators/educational institutions or parents?
Our specialty at EBL Coaching is providing one-on-one tutoring to struggling learners. This encompasses not just students with diagnosed learning disabilities, but any student who has difficulty with reading, writing, math, organizational skills, or executive functioning skills. We receive many referrals from schools, evaluators, and parents. Many times, parents often come back to us for help with their other child, which I always see as a nice compliment. Our philosophy is to provide highly individualized, diagnostic and prescriptive multi-sensory tutoring to each child, and we have seen so much success with this approach.
Can you state for us the signs that indicate someone may need a tutor? When a client approaches EBL, elaborate upon the process for a student to get enrolled. Finally, please advise on how you determine what services a child could or would need – and when they can be completed?
If a child is struggling in school – whether it is learning how to read, comprehending passages, writing basic paragraphs, or solving math word problems – that may be a sign that they need a tutor. Some parents choose to have their child undergo a complete evaluation first, but many prefer to begin tutoring right away to start providing help to their child and alleviate the struggles. When a client comes to us, we typically start with an initial assessment to gauge the child's strengths and weaknesses – and then come up with the best individualized plan of action for that child. The specific services recommended for each student are completely individualized and based on the results of our assessment, their performance in school, any other outside evaluations they may have, and thorough conversations with the parents.
I understand that your physical address is in the NY/NJ area, however, virtual tutoring is an option, isn't it? Are the offerings parallel in nature?
Yes, we are doing a great deal of virtual tutoring, which has allowed us to help so many students not just in the NY/NJ area, but throughout the country and the world. We are able to integrate technology and resources that allow us to conduct multi-sensory one-on-one sessions as though they are in person. For many students, we have found virtual sessions to be equally as effective as in person sessions.
As mentioned above, you authored a series of workbooks. Might you share details on each one, and how one might be able to purchase these publications?
Sure! My Strategies for Study Success 17-part student workbook series teaches students specific research-based strategies for reading comprehension, writing, test taking, note taking, summarizing, and executive functioning skills. My Flags and Stars Orton Gillingham student workbook series uses the Orton Gillingham methodology to help students develop their reading and spelling skills. My Flags and Stars Multi-Sensory Math student workbook program uses a multi-sensory approach to help students develop their foundational math skills. These books can be purchased either on Amazon or on our website, located at www.eblcoaching.com.
Dear Dr. Levy, My son received an excellent report card. I can't say enough good things about his EBL tutor. She has done a tremendous job helping him improve his reading and writing skills. Most importantly, she is wise and kind. She is always patient with him. Because of his tutor, my son writes with much more ease.
– Parent